We have Reception places available for September 2022. We welcome you to this virtual visit to find out more about our school.  We would also love to meet to you on a 1-1 basis virtually or on the phone so please call us to book an appointment on 01295 263240.
For information about applying for a reception place see: https://www.oxfordshire.gov.uk/residents/schools/apply-school-place/infant-and-primary-school
If you applied via OCC before 15 January 2022, you will receive an offer on national offer day, 19 April 2022.
The closing date for applications in the second round is 4 May 2022 and offers will be made on 9 June 2022. Applications received after 4 May will be processed later in the year.
We cannot wait to welcome you into our wonderful Dashwood Community!
Located in the centre of the bustling town of Banbury in Oxfordshire, we are a two-form entry primary school surrounded by playing fields, including a forest school, sports pitches and our very own library bus. You can read our Prospectus here.
Our mission statement is 'Growing together; succeeding together'.  Our values of self worth, engagement and purpose means we are always learning and always trying to achieve our best; this applies to whatever we put our minds to and, crucially, applies to staff and all pupils alike.
Why choose Dashwood for your child's learning journey?
We start the day developing independence by hanging coats up, self registering and settling into a play based activity.
The children are encouraged to learn through play with targeted adult support that moves each child on at an individual level.
Through the day, the pupils will complete focused phonics, reading, writing, maths and topic based activities.
All our topics start with a WOW event and end with a reflection (eg cooking, hatching eggs and even a picnic on the moon!)
We go on many trips in the year including swimming!
We have forest school sessions weekly onsite where we have newts and toads.
The children are invited to many after school events such as bedtime story, camp night, PTFA film nights and fairs.
We celebrate all cultures and beliefs through special events.
We communicate with you regularly through newsletters, texts, Facebook, our website and Tapestry.
All our school dinners are freshly cooked and delicious!
WE offer wrap around care: Breakfast Club (from 8am) and After School Club (3-6pm) at extremely reasonable rates.
As an Aspirations Academies Trust school, Dashwood provides a modern and expansive curriculum. Teachers are given the freedom to teach in a way that meets the needs of their students, and pupils are resilient, have empathy and develop teamwork and leadership skills, ending their time with us with strong academic results ahead of national outcomes.  It's a powerful combination!
You can find out more about our wonderful school by visiting the rest of our website, following us on Facebook or Twitter (@DashwoodBanbury), or by phoning our school office on 01295 263 240.
Amy Rogers
Principal
How to apply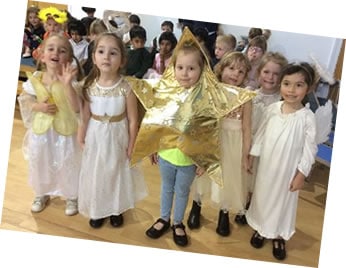 See our Applying page for information on how to join Nursery and the Applying for a place in Reception page for how to apply for a reception place through the local authority. For older children please see our Admissions page.