Art: Intent, Implementation and Impact
Intent:
At Dashwood Banbury Academy we want our art curriculum to both develop key artistic skills and to introduce our children to a range of artists from different historical periods and cultures. We understand that our art curriculum should give children the tools they need to develop skills in a range of art media, combined with experiencing the work of a wide range of artists and craftspeople, including famous artists. This is a fantastic way for the children to explore ideas, and to gain the ability to express themselves. Therefore, we have developed three whole school art threads:
Express emotions and feelings through art.
The impact art has on their lives and the lives of others.
How art has shaped history, creativity and culture.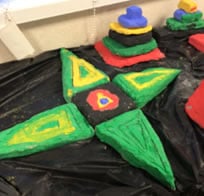 These threads are focussed upon throughout our art units, so that the pupils are able to experience and practise differing art mediums whilst developing knowledge of how art links with history and different cultures. We want our children to learn about a variety of art movements, artists and sculptors before recreating their art, adding their own personal ideas and flair.  These experiences are planned to enable children to work increasingly confidently and independently, in making their own choices in how and why they choose to express their ideas and emotions in art.
Implementation:
We have an art curriculum that has a clear progression of knowledge and skills. Each year, children are introduced to a new art focus so that they experience many different forms of art over their time at Dashwood Banbury Academy. However, key skills are revisited multiple times throughout a pupil's time in order to enhance progress. Art is implemented in the curriculum in numerous ways:
Term 2 is our art term where all year groups spend numerous lessons learning about an artist, how their art is created and which period of history it belongs to, before creating their own art in that style.
Each art unit has a clear outcome which is often linked with wider skills or curriculum areas. Year 5 create ICT presentations on Mr Finch – a textile artist, whilst Year 3 write about the contrasting styles of Georges Surat and Andy Warhol. Other examples include Year 6 creating biographies about Leonardo da Vinci and Year 4 presenting their ideas about their 3D Olympic logo designs.
Links to the local community are developed through some of our art units. For example, Year 3 turned their printed snowmen into Christmas cards for local care home residents.
Each term, key artistic skills are revisited in individual lessons so that children can, for example, confidently sketch and mix colours. This often supports other curriculum areas. For example, Year 5 sketched a Viking helmet whilst Year 2 developed their skills through a careful line drawing of Christopher Columbus' ship.
Lessons within an art unit will begin with a Learning Question (LQ) which the children are required to answer throughout a lesson or sequence of lessons.
At Dashwood Banbury Academy, we have a wide range of art resources to support practical art outcomes.
Each year, we run a whole school art project with an overall theme. Each year group focuses on a different art media, outside of their year group objectives. This extends their art experiences further. These sometimes include links to Wykham Park academy. For example, a specialist teacher supported some children with line drawing skills.
The outcomes of art units and our whole school projects are displayed and celebrated. Where possible, a school gallery is held where children can celebrate their art successes with parents and carers.
Art clubs are held in both KS1 and KS2, focussing on a range of artistic skills including drawing, collage or sewing.
Intended Impact:
For children to enjoy all aspects of the art curriculum.
Information will be gathered via pupil and staff voice as well as through evidence of children's learning.
Children will extend their knowledge and enjoyment of art from a range of historical periods and/or cultures.
The revisiting of key artistic skills will improve children's confidence and outcomes.
Practical art lesson will promote creativity.
Throughout their time at Dashwood Banbury Academy, children will be introduced to a wide range of art medias, therefore developing their experiences.
Children will have a growing awareness of how art can bring communities together and provide enjoyment. This could be through creating their own art or visiting art galleries.
Progress will be assessed through art outcomes and a formative assessment will be given 3 times throughout the school year in our data collection points.
Here are some examples of our pupils' artwork:
SENSES OF WORLD WAR II
Year 6 have been using their sketching skills to create reflections of World War II from their own perspective.

Spitfire by Hudson
INSPIRED by L S LOWRY
Year 6 pupils have been practising their pencil sketching focusing on the work of WW2 artist L S Lowry. Linked to their WWII topic, they learned how Lowry became an official war artist in 1943.
by Aimal
Lowry painted industrial landscapes like textile mills, factories and mines. His work focused on line drawings and 'matchstick' men often representing busy life. Year 6 practised their sketching skills and some experimented with water colours to create their own art using the inspiration of some of Lowry's most famous pieces.